Talk to an expert
The client
Roberto Arechederra is a Corporate Finance expert. Over 1,500 global conferences have generated an impact on thousands of people to make better strategic decisions, especially to improve their financial status.
The Challenge
Lumston created the Brand and led the Strategic Positioning, including visual identity, brand look and feel, web development, email strategy and design, digital and social design, ebooks, digital marketing analytics and optimization.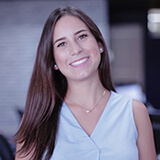 Meet Gaby
Director of new business

Your message was sent successfully! We will be in touch as soon as we can.
Something went wrong, try refreshing and submitting the form again.