Talk to an expert
The client
Mexican brand dedicated to the production and distribution of tech products. From aux devices, like mouses and keyboards, accessories like backpacks and portfolios, to audio and entertainment equipment.
The Challenge
Focussed on a community that'll connect you with fellow tech lovers. It's a place to share, ask and answer.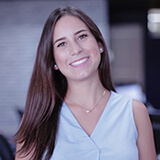 Meet Gaby
Director of new business

Your message was sent successfully! We will be in touch as soon as we can.
Something went wrong, try refreshing and submitting the form again.