Talk to an expert
What is Staff Augmentation?
Have you ever wondered how some companies develop awesome solutions without having a big payroll? Perhaps, they have applied a strategy such as Staff Augmentation.
Staff Augmentation is a flexible outsourcing methodology that enables you to apply talent with the necessary skills to a project and expand your business. The best of this strategy is that you can have this talent permanently or temporally.
Benefits

No infrastructure investment

Reduces time and resources spent on recruitment

Eliminate the additional costs of having in-house employees

Not bound by geographical limitations
Staff Augmentation is right for you if you need:
To extend your team
You already have the team to work on your product in the local office, but you want to extend your team to develop another part of the product. Hence, you will need to up to 3 tech professionals but due to the shortage on your local talent market, recruiting processes will only take more time.
Geographical expansion
You are developing a tech solution with your staff and you need to add new engineers to your team. As the stack of professionals that you intend to hire is rare in your country, you're looking to extend your search to other locations.
Vision consolidation
You cooperate with a project outsourcing company to develop your product, but this model doesn't fit you. Your business needs to communicate with your team directly on a daily basis and that kind of communication fits better with a well-acquainted remote team to make sure they feel like part of your local team.
Common misconceptions
Quality is diminished
Staff Augmentation supports the operating efficiency by permitting flexible work platforms. Also, the employees are found to be more responsible and dedicated to their job.
Our staff working on different shifts will adapt to their work and time zone, offer a fresher and alternative vision of the processes that will allow them to obtain at the end, an impeccable quality.
Is too expensive
The expenses an employer can save include fixed salaries, legal and employment benefits, premiums, corporate aids, and social security benefits. Using Staff Augmentation allows an organization to grow their work force with specific professionals for particular tasks without having the necessity to incur in long-range or undefined term recruitment.
The developers hired will be available for the company without additional costs. The fees of these dedicated resources will never be higher than the total cost of an employee.
No control over the projects
Having incorporated developers, who will work exclusively for the contracting company, the commitment with the project and the company's vision will be impeccable. Also, the company could count with different professionals, experts in their fields to contribute in a positive way with the development of a project.
Our Success Stories








Next steps
2
A Lumston expert will contact you to discuss your needs
3
Receive free initial consultancy on your project and detailed savings estimate
More services
Dedicated Teams
A dedicated team to a company works more like an internal distributed team than a temporary provider, which means the clients must be prepared to invest time and effort in encouraging a relationship with the provider and build the external team in the general business strategy.
Project-based Model
Our software development services are based on the needs of our clients. With more than 180 projects developed, for more than 15 industries in Mexico and the world, our methodology involves a creative process, planning and agile execution based on the best strategies of the development industry.
Any idea is welcome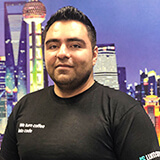 Meet Alex
Business improvement manager

Your message was sent successfully! We will be in touch as soon as we can.
Something went wrong, try refreshing and submitting the form again.